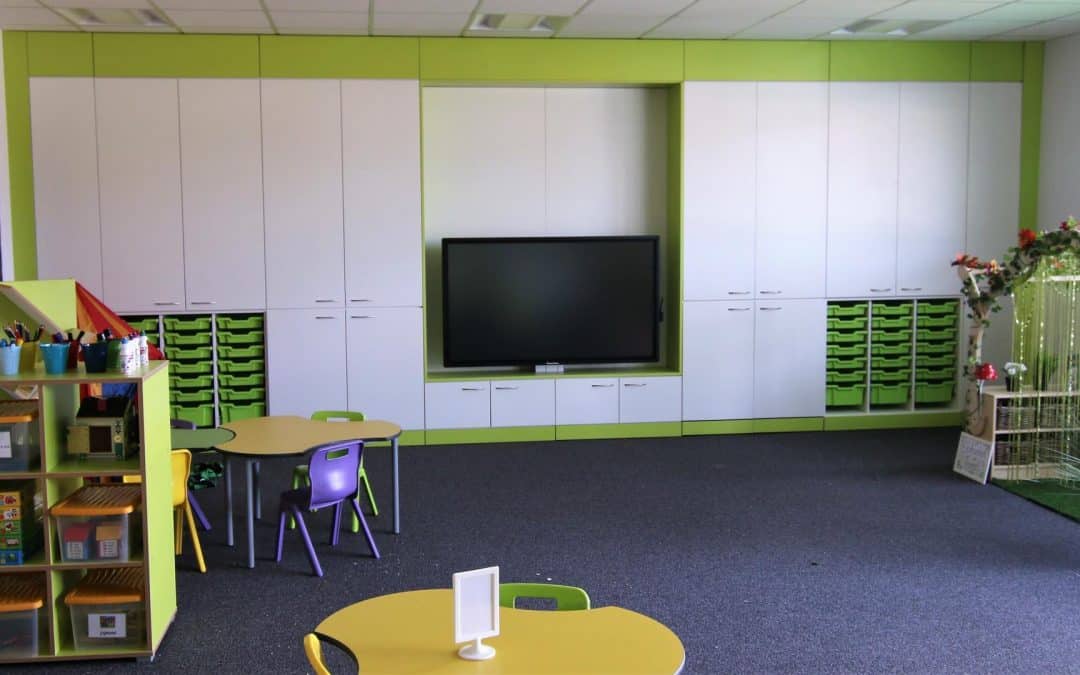 We've been getting a lot of questions lately, and one of the more frequent ones is what are teacher walls and teacher storage walls, and why are they becoming so popular? We've prepared a few bits of information to help you know whether getting a teacher storage wall is a good idea or not!
Teacher Walls are a fantastic product which allows your teachers to turn any part of their room into an excellent and practical media or storage wall, or both! There are many names associated with these products, such as' 'Teacher Storage Walls', 'Media Walls', and of course 'Storage Walls'. It doesn't matter what you call them, all that matters is how much of a great addition to your classroom they are. Resilient, sturdy and stylish, they're here to last!
Teacher Walls, make classes more space-friendly. Instead of cluttered storage units distributed around the classroom.
Teaching Storage Walls can free up space around your classroom, allowing for more curricular activities! If you're struggling with making your classroom distraction-free, then you could benefit from storage walls.
There isn't just one type of teacher walls for one classroom; all of our storage walls are custom and bespoke to you! Edges, Ridges and Corners aren't a problem when dealing with our dedicated installation team!
Pairing your bespoke teacher storage wall with an interactive whiteboard, or interactive UHD board allows you to create and maintain your students, and pupils attention with up to 32 users simultaneously. The new range of Triumph Board's can connect straight into our new range of walls easily, and with hardly any installation!
All aspects of your design can be customised, and the wall is entirely bespoke. We can work closely with your school to make sure that everything suits your styles, classroom organisation and storage needs!
We manufacture our parts and create our on-site in Hemel Hempstead, and we can work closely with you to develop your specification that suits your needs. You can relax knowing that a UK company close to home is taking care of your classroom environment.
Every one of our teacher walls has a finish, and colour option that can be changed to suit your colour scheme! You can choose from a range of colours and patterns, shapes too! If you'd like to learn more about storage walls, and other services then go to our case studies page!