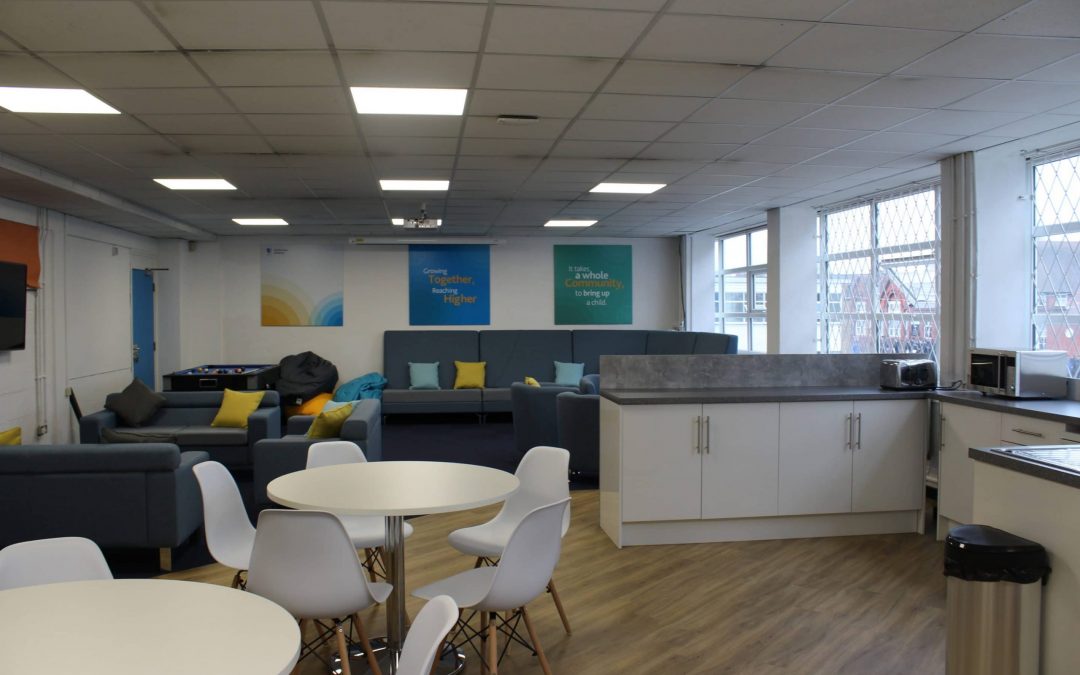 We write a lot about how we can make the daily lives of your pupils better. We've realised we have been neglecting staff members! Teachers and faculty deserve a dynamic and creative staffroom for their everyday use! Here at BrookhouseUK, we have been providing staffroom refurbishment for years, creating the perfect relaxation and productivity rooms after a long day of teaching!
We have recently completed a staffroom refurbishment project at Ark Bolton lately and are continually looking to enhance our creative portfolio! Ark Bolton needed a productive and relaxing staffroom refurbishment service for their teachers and faculty.
We decided to fit as many comfortable units of furniture, chairs, tables, desks and fit a kitchen area for the teachers and staff to relax.
What exactly do we mean by Dynamic?
All staffroom refurbishment projects we undertake have the potential to be used for many numbers of uses. Our staffroom refurbishment services is an investment in creating a relaxing environment for you and your staff. Your staffroom may need to be a different room one day, thus we try to make all of our rooms multi-functional!
We work with you throughout your Staffroom Refurbishment
at BrookhouseUK we develop with you to create the vision you've designed, we can aid you with all aspects of the design and build from the very first discussion.
Staffroom refurbishment projects can give you a fantastic way to develop your school, they can be a great way to give masses of information to your workforce all at once. Your staffroom is likely to be used by every single member of faculty, thus allowing it to be a great place to relay information on that's important!
If you have any questions please contact us via the contact page, if you would like to see previous work we have completed, please view the case studies or inspirations page!